The selection for Lent is Amy-Jill Levine's "Entering the Passion of Jesus: A Beginners Guide to Holy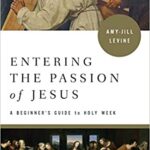 Week."  Zoom discussions will take place from 10-11:15 a.m. Tuesdays through March 30.
The book studies six events that occur during the Passion account and reflects on the themes of the risks that Jesus took: reputation, anger, challenge, rejection, loss of friends and temptation. The author shows how the Biblical text raises ethical and spiritual questions, prompting us to look at the risks taken in our own Christian experience. The book is available for about $13 from Amazon and other dealers.